Douglast Trail Race
11 miles
August 3, 2013 – 7:30 am
52-64 degrees | calm | sunny
I've wanted to run this race for years, but the timing has just never worked out. But this year, we were in town, I wasn't injured, I wasn't pregnant and I was in shape to run 11 miles. I needed to do a longer run that day, but decided I would just do a longer warmup/cooldown and try to run the race in the middle.
Much like the previous week's race, it was a little chilly – 52 at the start. It was sunny out, so it didn't feel too bad. One of the things I was looking forward to about this race was that it would be opportunity to run a section of the trail that I haven't run before. I've made it about a mile past where the race started but then my paranoia got the best of me and I had to turn back. We were supposed to run near to the end of the trail, but due to bridge construction we were going to run up to the trailhead in Rochester aka the parts I run all the time. It also meant we were going to run up a couple of overpasses, so it wasn't going to be flat.
I ran a little over 3 miles and finished with about 5 minutes to spare before the race started. That gave me time to make a last run into the portapotty and do a few stretches. While waiting for the race to start, a girl next to me told me she liked my shirt. Turns out we were wearing the same C9 tank, so we talked briefly about Target. We got lined up and waited for a few more final instructions, and then the girl/her husband noticed we were also wearing Sweaty Bands and Brooks shoes. She joked that she'd have to find out if I was in her AG before deciding if we could be friends. I told my new race twin (RT) I was 34 and she said we weren't competition.
And then we were off. I hadn't really decided if I was trying to race this (1/2M pace) or if it was a MRP workout, but decided I was going to try to not look at my watch at the start and see what effort I could come up with. I normally turn off auto-lap, but I left it on as I figured that there was a chance that they hadn't marked the miles – and I was right.
8:24
8:31
8:17
8:21
So we ran out 4.5 miles and then turned around. First two miles, I felt like I was making good effort but also like I was dragging. With there being a turnaround, I was able to see that I was in 3rd place but also that 4th place (my RT) was pretty close behind me along with another girl not too far back from her.
8:08
8:11
8:20
8:31
Fuzzy on the details, but pretty sure 5 and 6 were faster because I could hear RT gaining ground. She was enthusiastically cheering for the runners heading out, so it was easy to tell where she was. At some point, she caught up to me and we ran together for a bit before I just couldn't keep up. My legs were feeling the effects of either the longer warmup or the overpass hills.
8:23
8:26
8:25
We reached the start line about 9 miles, and had to run past it for a mile (passing the finish line) and then turning back. I swear I thought I was running 8:40s here, I just was not running as strong as I wanted to be. I did catch up with RT at some point when she took a walk break, and we ran side by side chasing after a man in blue. Around mile 10, RT took off and the man in blue followed. I tried to give chase, but my legs were just not having it.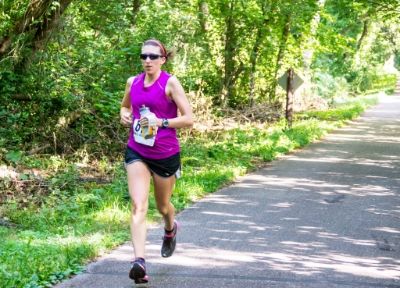 (Photo by T. Woo)
0:47
We should have been done at 11 miles, but the finish line was still down the trail a bit. Both RT and I measured the course as 0.1 over. I usually just go with the race distance, but I did record this one in my running log as my GPS watch since there weren't any tangents (straight out and back) and it's likely that the distance was off since they had to re-route the race.
Finish time – 1:32:50
RT ended up beating me by 50 seconds, so she was really booking it for the last bit.
I walked over to the start line, and briefly talked to the other runners. The man in blue thanked "the girls in purple" for helping to push him. I refilled my handheld bottle and headed back out for another 2 miles, which felt like a shuffle. (About a 4 minute break).
I was 4th female, but won my age group. A lot of the high race/AG placements were by runners 50 and up, which is pretty inspiring.
I was a little disappointed with the race and my splits. As a 1/2M pace race, this was not where I needed to be. But I wasn't tapered, and I definitely wouldn't be running 3 miles as a warmup for a 1/2M. As a MRP workout, it wasn't bad. Taking the extra 0.1 in account, I averaged 8:22, which is 3:39 pace.