Med City 1/2 Marathon
May 26, 2013 – 7 AM
mid-40s, wind 15-20 MPH, cloudy
Tentative plan for the race was to go out around 8:45-9:00 for the first few miles and then pick it up. I knew that the first half of the race had rolling hills but wasn't sure how bad they would be.
It was cold this morning, and most of us were shivering at the start line. I briefly wished that I'd worn tights, but my legs ended up fine. I had impulse bought a set of arm warmers at the expo and wore them with a short sleeve shirt. This turned out to be a great purchase, and a good decision. I rolled them down a few times, but mostly kept them on the whole race.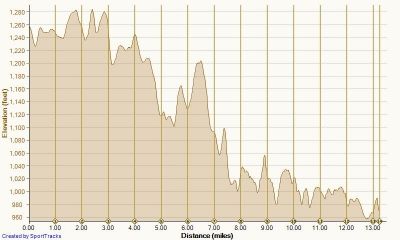 I started right behind the 3:45 marathon pace group (8:35 mile), but somehow got ahead of them in the start congestion. Was a little surprised to go through the first mile at this pace, but it felt good so I thought I'd keep it up. At some point, the pace group caught up, and I was surprised that they were not running on pace. I heard them say that they were looking to run even splits, and couldn't figure out how to translated to them running 8:15-8:20s at the start. The rolling hills started around 3 miles, but weren't too bad at first. Mile 4 had more uphill, and mile 5 had more downhill, but I knew we still had a bit more to climb. The 6 mile mark was the start of the last big mile, but most of mile 7 was downhill. I tried to not put the brakes on too much and relax down the hill. I saw one of the race directors right before the 8 mile mark, and she was cheering and waving at all of us.
Up to this point, we'd been running on a country road with limited spectators. After passing the 8 mile mark, we turned into a neighborhood that had a lot of spectators. But then we headed onto the bike paths and went back to where spectators were in pockets. I run on this section of the bike path several times a week, and knew exactly where the 9 mile mark would be because it's permanently spray painted on the ground 🙂 We were running around lakes, and the wind whipping off of the water was fairly cold. (We had been running into the wind the entire race). I was feeling pretty good and pleased to see my pace in the low 8s.
Continued on the bike paths, and at some point around 10 miles (I think), I caught up to and passed the 1:50 pace group. I'd been doing mental math for awhile that 1:50 was going to be within reach, and once I passed the group I became really determined to get in under 1:50. My goal all along was to drop the hammer at 12 miles, but 2 things happened. 1) I totally missed the 12 mile mark and didn't realize it until probably 1/4 mile past. 2) My legs were getting tired from running into the wind. I've been intrigued by the recent #runchat compression discussion and had almost bought some compression sleeves at the expo. (Not to wear for the race). I decided against it, thinking that my calves didn't get sore. But during the end miles, I found myself thinking that maybe they would be useful.
The finish (aside from the wind) was great. It's basically a long straightaway, and you can start to hear the finish from maybe 1/2 mile away and see it from 1/4 mile away. There were crowds and a jumbotron. I tried really hard to pick it up and finish strong, and was stoked to come in at 1:48.
The mile markers were off, and I completely missed seeing a 12 mile or 13 mile mark. So I pulled the paces out of Sport Tracks:
8:32
8:17
8:16
8:23
8:04
8:14
8:10
7:51
8:06
8:07
8:06
8:07
8:14
7:23 (0.1)
————————————-
13.1 miles | 1:48:23 | 8:16/mi.
As I tweeted earlier today, I'm pretty damn pleased. 16 minutes faster than I ran in August, even after being down for a bit with injury. I ran negative splits, and a fairly consistent second half. Would've liked to hammer more at the end, but I think I did well for having topped out at 11 miles in training. Today was 12 minutes slower than my (pre-kids) PR from '06, when I was 14 pounds lighter and much better rested and trained.
Trying to decide where to go next … training for a full or not this year. I'm leaning towards focusing on the August 1/2 and attempting to finish out the year without injury before going for a spring marathon. The idea of having to run faster than I ran today for another 13 miles is a little daunting. I have to say that I was glad to take the turn to finish the 1/2 instead of continuing on for the full, especially since it started raining a few minutes after I finished.