With 21 years of running under my belt, I'm no stranger to hurting myself while running. Foot issues, IT band issues, glute issues, hip issues, hamstring issues, skinned knees, etc. While some of these injuries have derailed training and/or races, I've been fortunate that they didn't necessitate much, if any, time off from running.
That's no longer the case, as I haven't been allowed to run since September 12.

After an injury, I think it's normal to look back and try to figure out where you went wrong and if there were warning signs that you ignored but are obvious in retrospect.
Since I injured my hip 3 years ago, I have been running 4 days a week. During marathon training, I'd spend most of my weeks in the high 30s/low 40s and top out around 45. This spring, while training for the 50k, I topped out at 52 on 4 days a week. I also started running the day after my long runs to get used to running on tired legs. I didn't seem to have any real issues during the spring, other than some hamstring fatigue but that's been pretty typical for me.
Once Grandma's was over, I had 2 lower mileage weeks and then started to pick things back up. A month after Grandma's, I was back in the 40s on 4 days. The week after that I ended up running 5 days; I'd raced twice with my club and that left me either not having a long run or running the 5th day on a Sunday. This might be where I started to make bad decisions – I'd only run 10, 13, 15 and 16 since Grandma's but I ran 20 that day. If I remember correctly, I'd set out thinking about running in the 15-18 range, but then realized while running that if I could run 20 I would maintain my streak of running at least 20 miles each month since February. It's funny how stupid things like that get stuck in your head and seem important.
But the 20 went okay, other than being a little tired, and it got me thinking. I'd been running 40s on 4 days for 2 years, maybe I could add back that 5th day to start averaging 50. I'd been thinking a lot about making my first 50-mile attempt in October, and I needed to get in more miles for that to feel possible. So while I cut back on miles that next week, I ran 5 days again. I ran 20 again the next week, and hit 52 miles. The week after that, I cut back the long run to 17 but bumped the midweek runs up to hit 55. The week following, I ran 22 and hit 62 miles.
Things seemed to be going well, other than being tired and wanting to eat all the food in my house – which I remember from my Chicago '06 Pfitz training. Having run 3 weeks up, I then took a cutback week and ran 15 for the long run and hit 49 for the week. I then had another hard week lined up – 64 total, with 10 on Friday and then 22 on Saturday. The 22 was a big deal, as I ran 20 of it on the trails for the 50-mile race. I almost backed out of running there that morning since it was rainy, and I am a paranoid wuss about running in the woods on my own anyway. It was a tough run, especially since I didn't bring dry shoes and I had to spend a lot of time stopping to put my insoles back in place. My hamstrings and hips were really sore after running, and I soaked in an ice bath for awhile once I got home.
Two days later, I ran a 10k in Minneapolis with one of my Rochester friends. I ran a pretty decent race for coming off of a tough long run 2 days earlier, although my hamstring started barking at me towards the end. My splits look pretty good, but I was frustrated at the time that I couldn't run in harder because of my hamstring.
I had decided ahead of time that this was going to be a big mileage week – other than the race, I was going to back off on speed/pace and see if I could get in an extra-long long run to decide if I felt comfortable registering for the 50-mile race before the fee went up the following Monday. So I ran the day after the 10k – 10 miles at over 10 minute pace. My hamstring was pretty sore at the start, but felt decent by the end. I followed that up with 12 on Wednesday, which was fine. I would have ideally taken Tuesday off, and then run Weds/Thurs and Sat/Sun. But Thursday was the first day of school, and that was not going to be a good day for me to run. I ran 12 on Friday, which felt good enough for me to pick up the pace for the last 7 miles. (I wish I could remember if I was trying to accomplish something, or just going with what felt good).
That brings us to my last run. The Uptown Running Room was putting on a free 20-mile training run in preparation for Twin Cities. They were going to be following approximately miles 2-12 of the marathon course, and planned to have water stops approximately every 3 miles. I was registered for the TC 10 mile this year, as part of the USATF MN team circuit, and I thought that the planned route around the lakes sounded great since the 10 mile skips that section. I also was looking forward to running with a group and having water stops. Because I wanted to do an extra-long run, I got there early and put in 6 miles before meeting the group.
Around 5 miles, I'd started noticing something off about my shin. I remember pulling up my compression sleeve when I stopped to take a gel, and inspecting it to see if there was a bruise. I didn't think I'd run into anything recently (I did jam my shin on the corner of our dishwasher a few weeks earlier). I couldn't see anything, but the bruised feeling remained and got worse as the run progressed. I was okay-ish while running, but getting started again after water stops and street crossings started to get a little painful. I remember noting that our 10-mile turnaround point seemed a little bit too early, and most of the runners kept going past it to make sure that they would get in the right distance. I started to go past the marker, but then turned around because I had the thought that I should really start heading back in the direction of my car. I ran most of the last 10 with two guys, and our conversations helped to somewhat distract me from the realization that something was really wrong with my leg.
After the run, I stopped back at my car to pick up fresh clothes before heading back to the store to change and check out the sales. Walking hurt, and I limped my way back to the store. I remember sitting in the store and googling "stress fracture" and just wincing anytime I tried to walk. I really wish I had taken some pictures of it over the weekend, but the area swelled and a bright red patch developed on the front of my shin. I spent most of the weekend icing the spot and trying to move as little as possible. Sleeping was really difficult, as any movement of my leg hurt.
Monday, I started calling around to find a sports medicine office. I lucked out on my second try, and got an appointment for 11. The doctor was initially more concerned about my ankle, because it was still swollen. It's funny, because the swelling around the red patch had come down and the red patch faded, I hadn't even noticed that I was still swollen. They did x-rays, which showed nothing. The doctor was pretty convinced it was a stress fracture, which is what I suspected. He did say that it could possibly be tendinitis, and the only way we'd know for sure was to do a MRI. I opted for the MRI, with the thought being that if I'm about to get banned from running, I wanted to know for sure that it was a fracture. If the MRI came back and didn't show a fracture, then I might not have to take time off – or not take as much.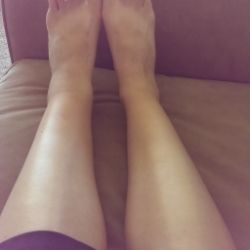 Picture taken Monday night, still swollen — but much improved
Due to an insurance glitch, preapproval was delayed for a day and then I couldn't get in for the MRI until Friday. The doctor had sent me on my way Monday with orders to not run, but not much else. The pain lessened over the week. The MRI showed that I had the beginnings of a stress fracture in my tibia – basically I caught this early enough that it's just a "stress reaction." With as much as this hurt, I cannot imagine how painful an actual fracture would be.
During the follow-up with the doctor, we discussed that I can swim and I can bike, but no elliptical or anything weight bearing. I told him that I had just registered for Boston, and he said that running Boston won't be a problem but that my time might not be what I want. The doctor said it was optional if I wanted an aircast ("the boot"). I initially declined one, but then spent the weekend feeling so paranoid about aggravating things since I still have to do a bunch of walking with my kids and dog. I also thought a boot would be a good signal to my kids that I have an injury / would serve as protection from them. So I went back that next week and got fitted for a boot. It's taken some getting used to, but I can walk fairly well in it now.
So it's been almost 6 weeks since I last ran. I didn't do any exercise other than wallowing in self-pity that first week. After that, I started hitting the recumbent bike. I wish that I could swim/pool run, but gym memberships are too expensive. I feel like my fitness and all the hard work I've been in over the last 2 years is slipping away, but I've come back from injury before and I can do it again. I plotted out Hal Higdon's Novice marathon plan as a kind of worst case scenario, and should be good if I can get up to 15 mpw and 6 miles by December 14.
I go back on Wednesday for a follow-up. Best case scenario would involve being allowed to start running again, but at this point I'll accept walking or the elliptical.