I said in my last post that I was getting bored of recapping, and apparently I found it so boring that I haven't posted in an entire year. A long hiatus makes it hard to start blogging again, because I get so caught up on needing to document where I've been and what's happened. So I'm just going to go with some bullet points for what's been happening since my 6th marathon in 2013:

Ran marathon #7 at Med City, 10 years after the IT band sufferfest that was my first sub-4 attempt. Race day fell on our first 70-degree day, and I pulled back around 1/2 way to turn it into a training run (3:56). The race felt like a redemption for 2004. Garmin data.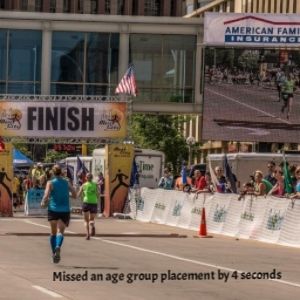 Two weeks later, I ran my first 50k. With as terrible as the 2013-14 winter was, I felt like I had little hope of picking up speed for a BQ attempt but that I could get miles in to make my first attempt at an ultra. It was a great experience (5:17, 5th female).

Ran marathon #8 at Twin Cities, and earned my first post-kids BQ (3:37). Ran with my training partner and we executed a near perfect race with negative splits – including a 7:39 last mile. I used the Boston training plans from the Run Less, Run Faster book but added in a 4th day of running to get some more miles in. Garmin data (I'm still so proud of that last 5k)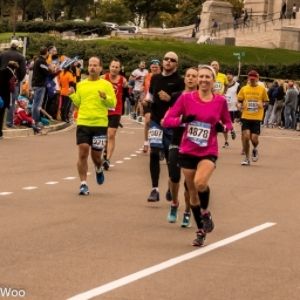 Followed up TCM with a 1:42 half over Thanksgiving. I had attempted to break 1:45 that summer, but was dehydrated and had a pretty miserable experience. It was cold and there were ice patches, but I ran pretty well.
Finally broke 1500 miles for a year, after coming close-ish twice before.
Joined a running club, and it was such a great decision. They got me out running in the dark (I bought my first headlamp and reflective vest) and throughout the winter (including a 13 mile run with -30F windchill). More importantly, running with the group was FUN.
Ran my second 50k, coming off a strong winter of mileage building. Nearly broke 5 hours (5:03), but race day fell on an oddly warm day and the heat got to me (I think it was my second run in shorts for the year). I was first female for 9 miles, but finished in 3rd after failing to maintain my early pace. Garmin data.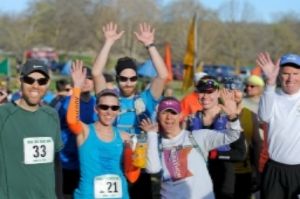 Ran marathon #9 at Med City. Went into the race not knowing what to expect for time, since I had been primarily focused on miles and not speed this spring. One of my friends gave me a boost of confidence at the start to try for 3:35, and I was able to run with her for the first 20 miles (she was running the 20 mile event). The last half of the race was raining, and I had trouble maintaining the pace once I was on my own (and the last 10k is really sparse since it's a small event). Managed to pull it together to run BQ #3 (3:39). Garmin data, where you can see that there was a big issue with the mile marks (including missing markers in that last 10k).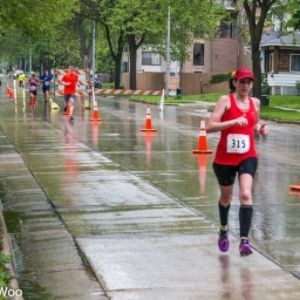 Ran marathon #10 at Grandma's. About 40 people from my club made the trip to Duluth to race (we had people in both the full and the half), and it was such a fun weekend. I had been nervous about the weather all week – I wasn't worried about the possibility of rain thanks to Med City, but the forecast of lightning was cause for concern since that would cancel the race. Thankfully, the lightning never showed although we did have a monsoon come through about 45 minutes before the race while we were all waiting in prestaging. It took 21 years of running and 10 marathons, but I finally wore a garbage bag 🙂 The heavy rain let up before the start, although it did continue for at least the first half. I started near the pace group, but got quickly separated from them and ran most of the race on feel. I had a weird "buckling" sensation with my leg around the half point, but it was temporary. There were some rough miles around 19-21, but I was able to pick back up and push on through to the finish. Seeing the finish line clock come in to view with the clock time under my Chicago '06 PR was awesome, and I cried after finishing in 3:34:37. I thought that my -2:43 BQ from Twin Cities was probably good enough to get in, but I really, really wanted to hit the -5 mark so I could register the first week. Garmin data.

After 12 years in Rochester, we moved to the Twin Cities this summer. The months leading up to the move were really hard and sad for me. Our new house is a significant upgrade, and the new neighborhood is really nice. We live near a lot of lakes, which can make for some scenic runs.
I ran a 5k in July that was 40 seconds off my PR and a 10k in September that was 80 seconds off my PR. While I had resumed tempo runs after Grandma's, I hadn't done any short distance speed work so this was really promising.
I ran my first 60 mile week.
I ran my second ever 200+ mile month, smashing my previous high of 214 with 253 miles
I ran my first 70 mile week
Registered (and was accepted) for my first Boston Marathon.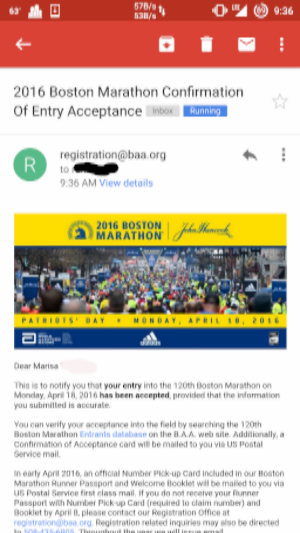 And then most recently, this happened: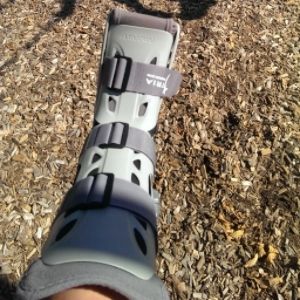 There just might be a correlation between those last couple of points (not the Boston one).