Earlier this month, I went back to finish my Runner's Clinic Evaluation. Since my injury had flared up before the first appointment, the PT didn't want to do the gait analysis. He had me come back after 2 weeks without running. He filmed me running on a treadmill, and made me watch myself in the mirror. Watching yourself run is pretty horrifying, even more so when you have someone pointing out your flaws. What we found was something that I knew about, but never thought about:
2002: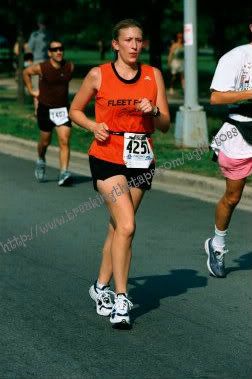 2005: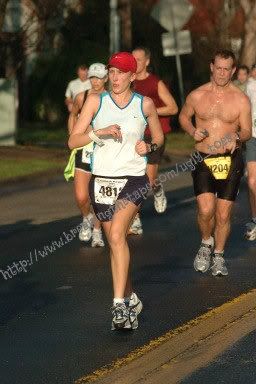 Look at the positioning of my feet in those pictures. Imagine that there is a line running down the center of your body. As you run, your arms and legs should not cross that line. My legs cross the center line as I run, and it's very, very pronounced on the treadmill. The PT watched me run on the ground, and the crossover is not as bad. If I concentrate, I can lessen or prevent the crossover.
I was given the go ahead to start running again as long as I worked on preventing the crossover and stopped if the pain came back. He gave me 3 sample schedules for starting back up. I outright dismissed schedule A because it was of the run 1/walk 1 variety and I have no interest in that (plus it'd be harder to log the miles). Schedules B and C are basically the same thing – you run every other day, with running the same time/distance for 2 runs and then increasing on the 3rd run. I opted to go with schedule B (time) because it ramps up slower than C (distance) does. It started with 5 minutes, moved to 7.5, then 10 and I'm currently at 12.5 minutes. The distance plan goes up by 1/2 mile increments. I walk for 10 minutes as a warm-up, run my interval, and then walk the rest of the workout.
I tried to put a mirror in front of the treadmill for my first run, but couldn't get the positioning right so that I could actually see anything. So I had to watch my feet, which gets tiring. The other day I found a cable and used it to jury rig a way to put the mirror up in front of the treadmill so that I can see most of legs. It's a little easier to run and stare at the mirror than to run and stare at your feet. Correcting the crossover still doesn't feel natural, and I imagine it will take a lot of work before it does.
Watching myself is interesting in that my right leg looks straight but the left leg seems to be at more of an angle. Like this:
_____
\ |
| |
It kind of explains why it seems the left leg is the problem leg. It does kind of annoy me that we couldn't have figured this out when I saw sports med/PT in '05 or '06. I knew my form was bad – I blogged about the crossover back in 2004 – but as I said above, I didn't think much about the implications. Looking at that old post (I knew I'd shared the 2002 picture before), I forgot that I'd had gait analysis done in college and had that identified. I wonder why they didn't urge me to correct it? Well, at least I'm working on it now.